Almost every day, we get asked "which is better, Amazon FBA or Shopify?"
Whilst many people are turning to Amazon FBA, there are some who prefer the control of their own store with Shopify.
But which one really has an edge over the other?
Well there is no clear yes or no answer. Selling on Shopify is very different from being an Amazon FBA merchant, but both can be profitable for your business.
With Shopify, you operate a business website and can sell nearly any product whereas as an Amazon FBA seller, you create product listings that sell on Amazon's marketplace instead of managing an eCommerce website.
Both have their pros and cons which we will explain in this article.
What is Amazon?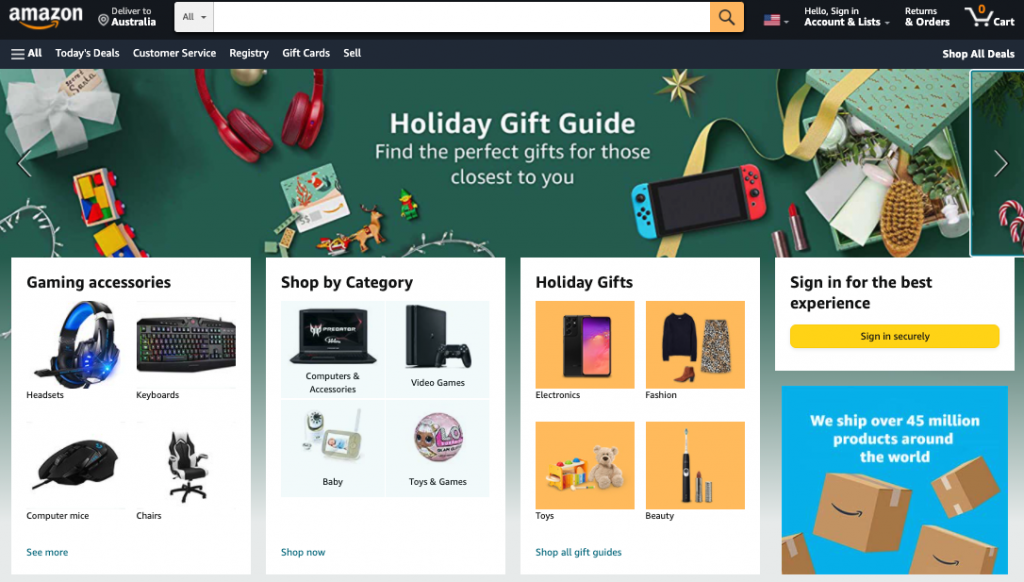 Amazon is a multinational e-commerce corporation founded in 1994 by Jeff Bezos. Originally selling only books, Amazon has since expanded to become one of the most popular online shopping sites worldwide.
Amazon sells just about everything, ranging from clothing and appliances to food and toys.
Amazon also offers cloud computing services through its subsidiary Amazon Web Service (AWS), which allows website owners to host their websites and files on Amazon's servers.
Originally, Amazon was simply a marketplace similar to eBay where sellers can upload listings and then they ship directly to the customer when a sale is made. This structure is called Amazon FBM which stands for Fulfilled by Merchant.
It wasn't until 2006 that Amazon introduced their warehouse and fulfilment service that allowed sellers to store products in Amazon's actual warehouses.
Amazon FBA is going to be the focus of this article, so let's learn a little more about this ecommerce model.
>> TAKE THE SUCCESS QUIZ NOW: This 2-Minute Quiz Accurately Predicts Whether Your Brand Has What It Takes To Succeed On Amazon Today
What is Amazon FBA?

Amazon FBA, or Fulfilled By Amazon, is a business model in which Amazon takes care of the storage and shipping your products for you.
You send your products to Amazon's warehouse, and they take care of all the shipping when someone orders from your Amazon store.
This can be a great option if you don't have time to handle shipping yourself and you want to outsource that job to Amazon, especially if your volume is so large that it makes sense for your business to outsource this service.
Much like any storage and fulfilment service, Amazon FBA does charge sellers fees for their service but there are some significant benefits to being an Amazon FBA seller, which we will explore later in this article.
What is Shopify?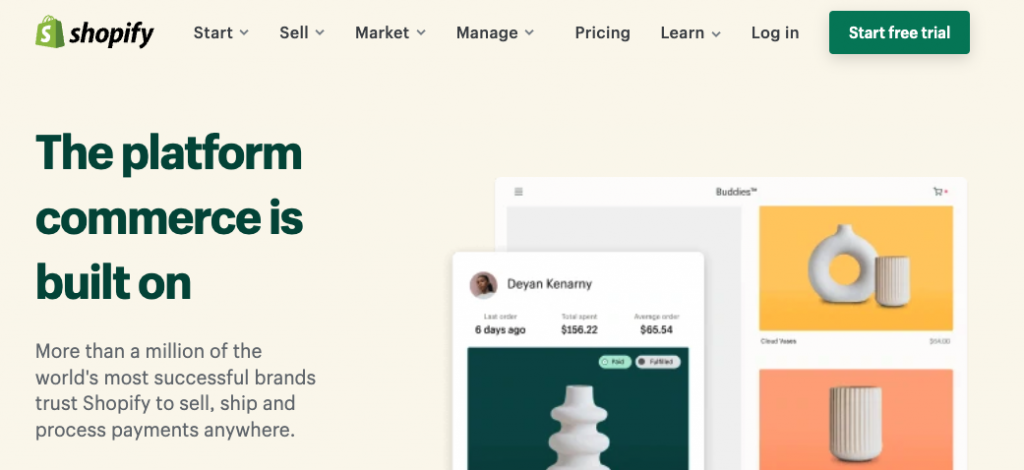 Shopify is very different from Amazon in that it's an ecommerce platform rather than a marketplace.
This means that Shopify hosts your store on their site and provides all of the necessary tools (including hosting, store-front themes, security, add-on apps, and payment processing solutions) so that you can run your business without having to worry about the technical side of things.
All you need to do is create an account, choose a store theme, and start adding your products!
One thing to note is that Shopify does not sell any products themselves; they are simply a platform for selling products.
Now that we've outlined some of the basics of amazon FBA and Shopify, let's take a closer look at some of the specific pros and cons of each ecommerce model!
What's The Difference Between Amazon FBA And Shopify?
There are many small differences between amazon FBA and Shopify, but we'll focus on the most important difference between the two ecommerce solutions.
Firstly, and the most important difference to be aware of, Amazon is a marketplace and Shopify is simply a platform where you can build and host your own ecommerce website.
Shopify requires you to manage your own product fulfilment, which you either need to do yourself or you need to use a third party such as a dropshipping app or a print-on-demand app.
With Amazon FBA, your goods are stored in one of Amazon's warehouses and they handle all fulfilment once an order is made.
Now that you know the difference between the two platforms, the next biggest difference is to do with your brand and how your brand gets traffic.
There is less focus on your brand on Amazon and more focus on having products that people are searching for. Amazon also has millions of monthly users on it's site, so the traffic (customers) are already there.
With Shopify, you own the brand and the website however you also need to drive traffic to your store somehow. This can be one of the biggest challenges for people that want to get started selling on Shopify.
Pros And Cons Of Shopify vs Amazon FBA
If you're waiting for a "big reveal" about whether you should sell on Shopify or Amazon FBA, then I'm afraid you'll be disappointed. They both have their advantages and disadvantages and it really comes down to personal preference. In fact, you can even do both! Let's explore all the pros and cons of both platforms.
Shopify Advantages
As we've already discussed, Shopify is more of a web design and hosting solution that allows you to build your own brand and run your very own ecommerce store.
Here's whats great about Shopify:
They give you a 14-day free trial
Quite easy to setup, even for beginners
Choose from a lot of free and paid themes
Create your own brand look and feel
You own the store, no one can shut you down (so long as you're not breaking the law)
Many different payment gateway integrations
Add-on apps to help improve your sales
Constant tech upgrades to the platform
Reasonably affordable at only $29 per month
Connect your own custom domain name (bought separately)
We love the fact that you can pay only $29 a month for Shopify and you can build a world-class looking ecommerce store without spending a fortune.
You have complete flexibility over how your brand looks right down to the color of the buttons and the logo on the checkout. Everything is about you and your brand.
Shopify Disadvantages
Having just explored some of the great things about Shopify, you might be curious about why someone might not like Shopify or what challenges they face.
Of course like any ecommerce platform, there are some drawbacks that you need to be aware of.
You need to do the marketing and drive traffic & sales yourself
Some of the paid themes can be expensive, around $200 or more
The best apps are not free and these can add up
Only basic reporting and analytics are available on the basic plan
There can be a bit of a learning curve getting everything setup
So there you have it, some of the most common pros and cons of selling on Shopify. Whilst Shopify is an amazing ecommerce solution, you really need to be ready to create your own brand and drive sales with your own marketing and advertising efforts.
Now let's move on to the finer details of Amazon FBA.
Amazon FBA Advantages
Many beginners flock to Amazon because it has such a big name in the ecommerce space. It makes it easy to get started quickly and start selling products without having to build your own website.
Here's the main advantages when it comes to selling with Amazon FBA:
There's already a huge marketplace of buyers
Just load your products and you're ready, no need to build a website
Consumers already have more trust in buying Amazon
FBA means you don't deal with shipping, customer service or returns
Advanced marketing and paid advertising tools available, if you want
Only costs $39.99 a month (plus FBA and selling fees)
These are definitely the biggest advantages when selling using Amazon FBA but before you start, it's important to explore all the possible disadvantages too.
Amazon FBA Disadvantages
Even though its the biggest ecommerce marketplace in the world, Amazon isn't perfect. There's still some major sticking points that sellers don't like when using Amazon FBA for their ecommerce business.
Amazon supports customers before sellers, so you may not always come out on top
You can be suspended or shut down completely without reason. Amazon's decisions are final.
Limited customization options for your product listings
Fees can start getting very high
Certain categories are restricted, such as
No choice in payment gateways, you can only use Amazon pay.
No choice but to offer free shipping to Prime users
The main lesson here before you dive into Amazon FBA is to make sure you get your financial projections sorted. Make sure you have enough profit margin to cover fees involved with Amazon FBA such as shipping and warehouse costs.
Shopify vs Amazon FBA Pricing
Now we've had a look at the main features of both and explored the pros and cons, it's time to get a little more detailed and look at the individual pricing comparison of Shopify vs Amazon FBA.
Shopify Fees and Charges
Shopify charges a monthly price of $29 for its basic plan which includes everything you need to get started.
If you use Shopify payments, which is powered by Stripe, you will pay 2.9% plus 30c per transaction.
If you use a third party payment processor like Authorize.net or PayPal, you will pay fees to them PLUS you will have to pay 2% of the transaction amount back to Shopify.

Once you're doing enough sales on your Shopify store, it makes sense to increase to the $79 Shopify plan or the $299 Advanced Shopify plan. Your transactions fees will drop to 2.6% and 2.4% respectfully, plus you'll get access to additional reporting and analytics features.
Amazon Fees and Charges
The monthly fee for Amazon FBA is $39.99, so it's only slightly higher than Shopify.
You can actually start for free, but thats what Amazon calls their Individual plan and it only applies to stores selling less than 40 units a month.
The professional plan, $39.99 per month, requires sellers to pay both referral fees to Amazon in addition to Fulfilment fees.
The pricing can get confusing, but Amazon has various calculators to help. Depending on what category your products are, you will pay Amazon a referral fee of anywhere between 8-15% of each sale you make.
Fulfilment fees start as low as $2.16 per sale, right up to over and above $100. Fulfilment fees all depend on weight and size of your products.
The final cost to consider with Amazon FBA is the storage fees for keeping your products in their warehouse. The table below gives you an indication of the storage fees you should expect to pay.
For the months of January to Septemeber, you need to pay 75c per cubic foot of storage space for standard size products. This price goes up considerably during peak months of October to December, or if you have oversize products.

There's a lot more information on the Amazon seller website to help you make your decision whether Amazon is right for your ecommerce business.
Marketing & Advertising on Amazon vs Shopify
We've already explored the details of each platform so you'll be aware Amazon already has millions of buyers on their platform looking for products.
With Shopify, you need to drive traffic and buyers to your store in order to make sales. You can also pay for advertising on the Amazon platform to boost your sales efforts there, so let's take a look at the various options available to sellers.
Amazon Marketing & Advertising Options
Amazon offers various different types of Sponsored Ads to their sellers to help boost sales.
It's important to note that all of Amazon's sponsored ads are on a pay-per-click basis, so you only pay if someone clicks on your ad.
Sponsored Products are ads you can ruin for specific product listings that you have on your Amazon store. These might help you make more sales for products that consumers are actively looking for.
Sponsored Brands are more of a showcase of your entire brand on Amazon, rather than individual products. This is great if you focus on a particular niche.
If you want to explore advertising outside of the Amazon site, you can try your hand at Sponsored Display ads.
Remember how we said Shopify is great because you can create your own brand and store? Well, Amazon actually has a similar "store" feature.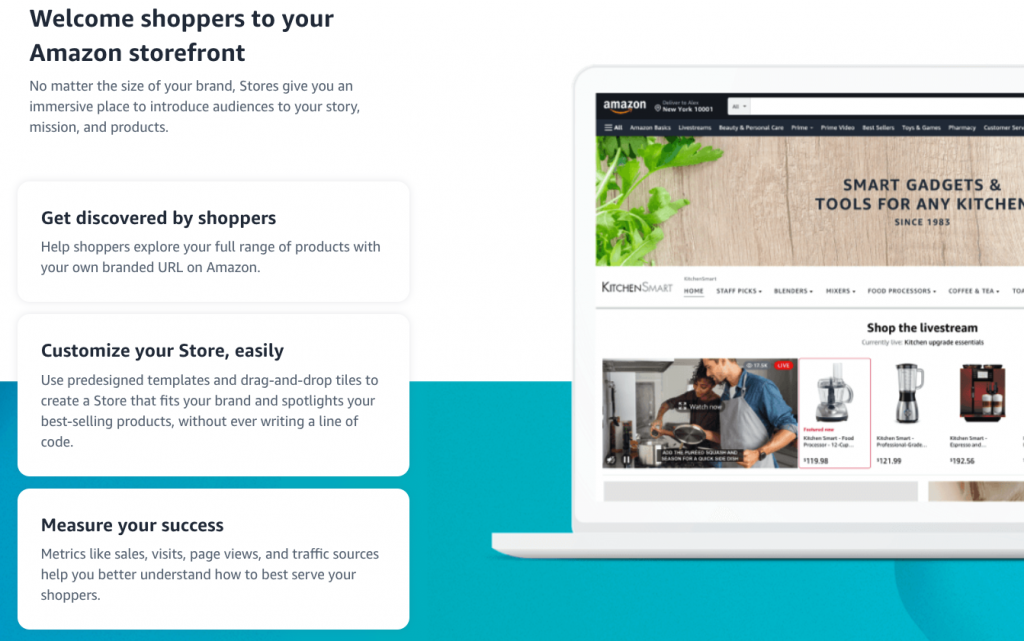 You don't need to pay for an Amazon Storefront, but you do need to enrolled in the Amazon Brand Registry program which is designed for brands to verify their products.
Marketing & Advertising for Shopify
When it comes to driving buyers to your Shopify store, you are in complete control.
There's a lot of different options when it comes to advertising your Shopify store, but here's the most popular:
Facebook Ads (pay-per-impression)
Google Search Ads (pay-per-click)
Google Shopping Ads (pay-per-click)
TikTok Ads (pay-per-impression)
YouTube Ads (pay-per-view and/or click)
We won't go into the details on how to run ads, but here's an easy to follow YouTube ads for beginners guide and you can check out the thousands of other paid ad tutorials on YouTube for free!
Integrating Amazon FBA With Your Shopify
If you want the best of both worlds, the great news is that you can actually integrate your own branded Shopify store with your Amazon FBA business.
What this means is, you can connect Shopify to your Amazon account and have your products sent directly from Amazon's warehouse when you make a sale on your Shopify store.
Although there might be some confusion when customers get their products in Amazon packaging, this is easily explained with your order confirmation emails.
There's a few steps you need to take in order to integrate the two, but Amazon software creator Jungle Scout has a quick and easy tutorial here.
If you need help managing your Amazon channel or moving products over from Shopify to Amazon, reach out to the team at Sunken Stone.
Does Your Brand Have What It Takes For Amazon Success?
Take the Sunken Stone success quiz and see how you measure up to the competition. It's quick and easy, but it accurately predicts whether or not your brand has what it takes to succeed on Amazon today.
Don't waste another minute wondering if your brand has what it takes—click the image below to take the success quiz. If it turns out that your brand isn't going to succeed, we'll explain several steps to take so that you prepare for Amazon seller success!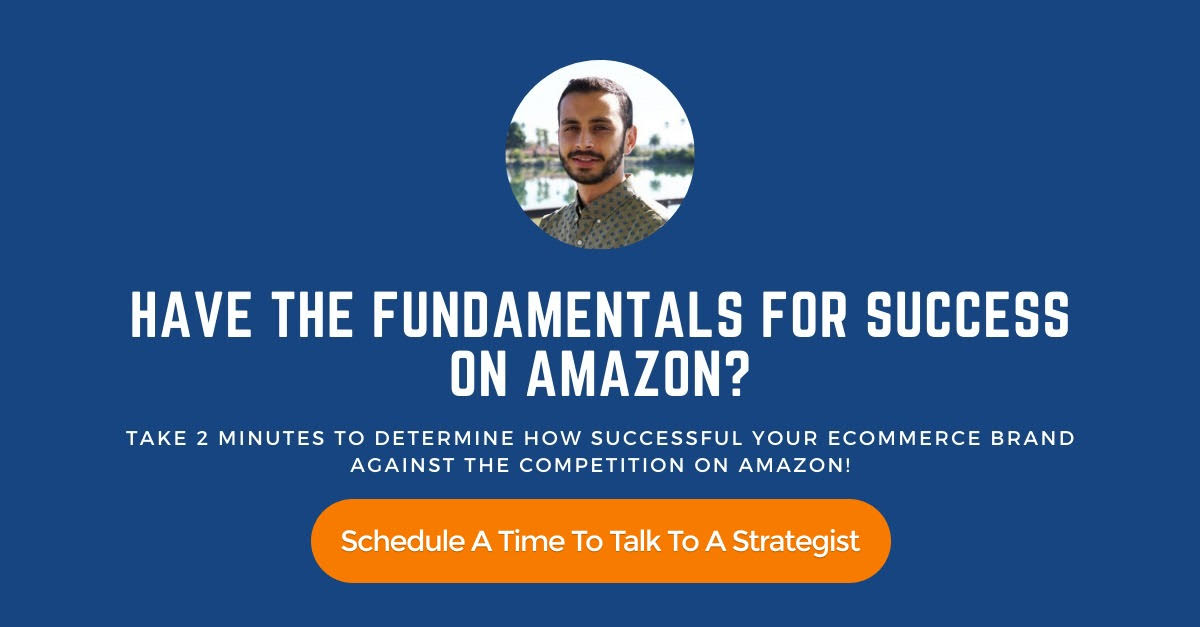 Amazon FBA vs Shopify FAQs
We've covered a lot of information so far but the truth is, we could keep on going! Here's some of the most commonly asked questions when it comes to Amazon FBA vs Shopify.

Does FBA work with Shopify?
Yes it sure does! As we just explained above, you can integrate the two platforms so any sales you make on Shopify will be automatically shipped to your customer from your stock at the Amazon FBA warehouse.
Is Amazon FBA still profitable in 2022?
Most definitely! Whilst Amazon is getting more competitive, there are still a lot of opportunities if you have a product that is good quality and in high demand.
Can Amazon FBA make you a millionaire?
This might seem like a far-fetched question but it's very common. Sadly, many gurus out there like to sell unrealistic dreams to people and promise quick riches. Amazon FBA can certainly make you a millionaire however like any form of business, it takes lots of hard work and patience.
The Final Word on Shopify vs Amazon FBA
This has been a fun article to write and hopefully you got all of your most important Shopify and Amazon FBA questions answered!
There's no right or wrong when it comes to choosing between selling on Shopify or with Amazon FBA, but either way you must do your research and make sure you are willing to invest a suitable amount of time and money into your ecommerce business.
There's many successful ecommerce entrepreneurs that sell on both platforms, but the best advice is to start with one. Trying to tackle both is going to be very challenging.
If you'd like to continue the conversation then please join our Facebook group and don't forget to take a look at our services for online business owners around the world.