Our Launchese Mail Forwarding Service is a serviceable mail service that's perfect for business owners that don't reside
in the UK, it is free for the 1st 12 months after the incorporation of your UK company, after that, an annual subscription

of $149/Year is applicable if you wish to keep using it, but don't worry, we will be sending you reminders before the

expiration date of your Launchese mail service.



The Launchese Mail Forwarding Service includes the following:

 A Registered Office Address in London (1st Year Free)

The registered office address is the official address of a company for use by Companies House and HMRC, and it must
be in the UK, this is the official address of a limited company or LLP. It must be a physical address situated in the UK
jurisdiction in which you form your company – PO Box numbers are not permitted. All limited companies in the UK are
legally required to have a registered office address. Statutory mail will be sent here and the address details will be
displayed on the public record. 


A Service Address in London (1st Year Free)  


It is a mandatory address and it is considered the official address of individual directors, secretaries, and persons of
significant control (eg. shareholders who own more than 25% of the company's shares). It will be placed on the public
record and used by Companies House and HMRC to deliver statutory mail to individual directors. But we will be
protecting the privacy of all officers home addresses.


A Business Address Service in London (1st Year Free) 


The Business address or known too as the Trading address is where a company conducts its business, and this can be
anywhere in the world.


Smart Mail forwarding by Email (1st Year Free) 


By providing you with a 'virtual office' we will be receiving and storing your company's Government mail or even your
personal mail as long as it's documents or bank letters. After that, we will scan your company's documents and forward
them to you by email and also upload them to your Launchese account.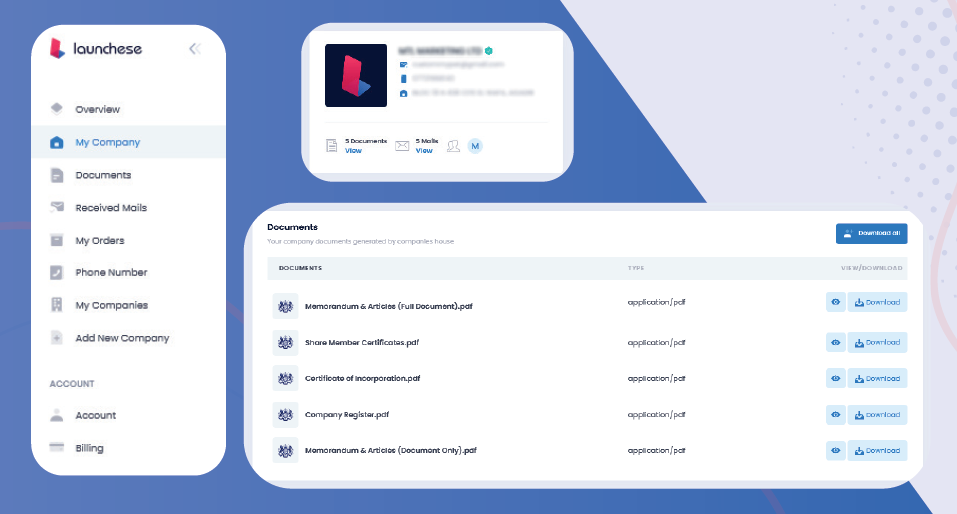 As for private items like bank letters, we will notify you via email but won't open them till you request them from us so
you don't need to worry about it.


International Mail Forwarding Service (Shipping fees apply) 

You will also be able to request to have your mail forward shipped to your own country via Express Shipping.
Don't worry If you aren't a Launchese user and want to use our address, you still can join us! please feel free to take a
look at the service we offer.
Thanks again, until next time!