Business bank accounts can open doors for your ecommerce company, adding legitimacy to your operations and equipping you with tools that can make it easier to run your business. Many business bank accounts can also be opened remotely without a single visit to a physical bank branch. 
In this article, we'll cover everything you need to know about opening a U.S. business bank account, from the different types of business bank accounts available to entrepreneurs to the details non-residents should look out for. (And we'd be remiss if we didn't suggest giving Mercury banking* a chance.)
What is a business bank account?
Business bank accounts empower entrepreneurs with tools that can help take their companies to the next level.
Like personal bank accounts, business bank accounts can send and receive payments through methods like ACH transfers, domestic and international wires, and checks. Depending on your location, they can also move funds from other payment service providers like Paypal, Venmo, or Interac. These bank accounts hold your funds, typically insure funds under Federal Deposit Insurance Corporation or FDIC, accrue interest on your stored money, display your balances and transaction histories, and provide bank letters and statements. 
But business bank accounts also have unique features that are tailored for entrepreneurs. With business bank accounts, business owners can take out business loans, accept checks addressed to the business (instead of an individual), and segregate personal and business finances. The latter can make accounting much easier.
Additionally, business bank accounts allow third parties to provide signatures for actions taken on the account, such as sending large payments. 
These capabilities can enable you to better track your business costs, cash flow, and even your quarterly estimated tax payments. 
Types of business bank accounts
There are three common types of business bank accounts, each with unique functions. 
Business checking account
A business checking account allows you to take common banking actions, like withdrawals and deposits, sending and receiving payments like ACH transfers or wires, and issuing checks. Depending on the bank, you can open a checking account online and receive some overdraft protection.
As with all checking accounts, business checking accounts are designed for daily use. Banks will generally expect higher transaction volume in a business checking account than, say, a savings account.
Business savings account
Companies hold the funds they don't use daily in a business savings account.  
This means that banks will expect business savings accounts to have lower transaction, higher deposit, and higher withdrawal volumes than in checking accounts. These accounts might offer high-interest rates and other incentives to store your cash. 
Merchant services account
A merchant services account enables your company to accept payments from customers through debit cards, credit cards, gift cards, and payment services providers like Stripe. The merchant services account holds the funds until the transaction is settled. Then, it deposits the funds into your business bank account. These accounts are equipped with special protections for your customers' personal information and your corporate liability. 
No other actions can be taken with merchant services accounts—you can't deposit, withdraw, or make payments with these accounts.
Benefits of having a U.S. business bank account
Opening a business bank account comes with financial, tax, and brand payoffs—all of which can boost your bottom line, even if you're not a U.S. citizen.
They separate your business and personal finances: Keeping your personal and professional funds firmly segregated helps you come tax time. You won't have to sort through your receipts and accounts during a season that's likely already very busy. Plus, while an audit is unlikely, it's prudent to be prepared for one. Keeping distinct personal and business financial records can make it clear to the IRS which funds are subject to review—and if you're organized, they're more likely to trust your records.
They enable you to make payments as a business: Business accounts create more trust among your vendors, who are counting on your ability to pay on time. Because business accounts have greater barriers to entry, using one tends to indicate to vendors that a bank trusts you and your company. And when your ecommerce enterprise inevitably needs to make purchases, your vendors will also trust you to make timely payments. 
They legitimize your business: When customers can pay a business bank account instead of a personal bank account, it shows  that you've invested enough in your business to have a bank account and that your business is trustworthy and reliable.
Your funds are more secure: Nearly every bank in the United States insures its business bank accounts with FDIC insurance. This insurance protects your funds if there is a bank failure or closure.
What to consider when choosing a banking services provider
There are plenty of options when it comes to finding your business' financial home, but not all of these are a good fit for your company. Before choosing a bank account, consider costs, accessibility, and the types of actions you will need to take—both within the bank account and with any third-party apps your store uses. 

Open your LLC in the USA today with Launchese : https://bit.ly/3RIa5zp
Pricing includes the base cost of maintaining your business bank account(s) month to month. This is often labeled a monthly account fee on your bank statement and is a recurring cost that might increase over time. Some banks offer business bank accounts for free.
Fees encompass a wide range of costs, including overdraft fees, transaction fees, account opening and closing fees, premature account closure fees, minimum account balance fees, ACH batching fees, and Address Verification Services (AVS) fees. These fees vary by bank, and sometimes by account, and may not remain the same over time. It's worth considering the changing nature of these fees when choosing a bank.

For example, some banks charge fees if your balance falls below a certain amount. If you plan to be below the minimum account balance for the first three months but know that you'll be at or above the minimum after that, it may be worth paying the three months of fees in order to use the banking services for the long run.
Interest rates vary by bank. Additionally, within banks, interest rates differ between checking and savings accounts. When deciding between interest rates, you will want to consider your company's ability to save money and whether a savings account with a high-interest rate will be useful for you.
Introductory offers and referrals are tactics used by many banks to get you to switch to their services, and they can be a great boon for your business. These are often cash bonuses or discounts on bank account fees given to new bank accounts. Make sure that the services and fees that come after the introductory offers are feasible for your business and still align with your goals. 
Application processes vary significantly and can take anywhere from 10 minutes to several weeks. Some applications are completely online, while others require in-person branch visits. When weighing your options, make sure you can sign up remotely, or else your account won't open up without an in-person visit to the U.S. Plus, most banks will require at least a week or more of processing time for your application—make sure to account for this time in your business plan.
How to open a U.S. business bank account online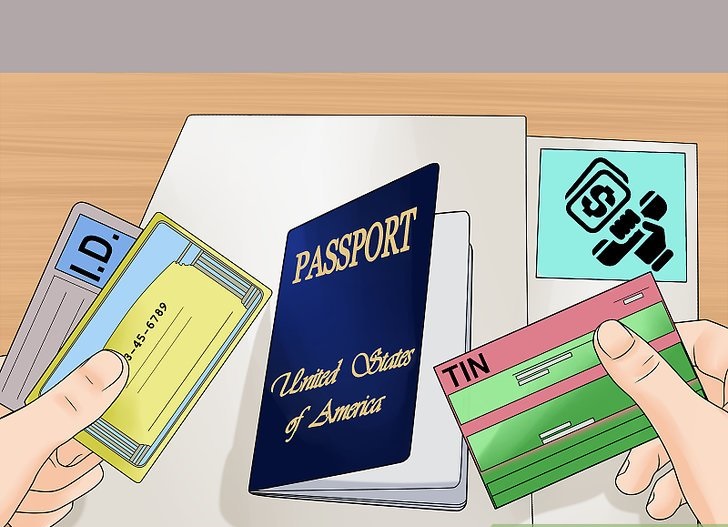 The first step in opening a U.S. business bank account online is to prepare your documentation. These are the six most common requirements.

Open your LLC in the USA today with Launchese : https://bit.ly/3RIa5zp
Business organization documents: Business organization documents can include company formation documents, corporate bylaws, and operating agreements. These documents are known as articles of organization in limited liability companies (LLCs) and articles of incorporation in corporations. Sole proprietorships don't have organization documents.
Business identification documents: Every business which registers in the U.S. is issued a federal employer identification number (FEIN or more commonly EIN). This is a unique nine-digit number used by the Internal Revenue Service (IRS) to identify your company as a tax entity.

Your EIN lets the IRS know how to tax your company and how much tax your company owes. If a third party applied for an EIN on your behalf, make sure to inform them that you're applying for a business bank account. This third party may be contacted if their contact info was used on the EIN document application. You may also need to provide proof of your business address in the U.S.
Business licenses: Any business which requires a license to operate in any way should keep licensing documentation handy when applying for a business bank account. Additionally, if any employees are required to have licenses to perform their jobs, you'll want to keep these on hand as well. Unlicensed employees or contractors are a serious liability that most banks try to avoid. 
Personal identification documents: You'll need to prove your identity to the bank when applying for a business account. Common forms of identity documents include an international passport and U.S. government ID.
Proof of commerce: Banks are generally low-risk operators, so they check the claims of their prospective customers very thoroughly—even the safe ones. Be prepared to prove yourself with facts and numbers.

For example, if you claim to need multi-million dollar transaction limits per 24-hour period, your bank will ask for proof that shows why they should trust you with such high processing limits. Reports like your profit and loss statements and cash flow statements can legitimize your financial requests.
Legitimacy of customers: When calculating the risk of providing your company with a bank account, banks also consider the legitimacy of your customers. Risky customers could mean that your business will have to deal with chargebacks and other processing risks.
Final Thoughts
Even if you're not a resident of the U.S., it's fairly simple to open a business bank account remotely, Launchese can help you to establish your LLC in the US first in order to apply to your Mercury account.

Be sure to compare accounts, ask questions, and, if needed, consult with financial advisors and tax professionals to help you get the best banking solution for your needs.
‍