At Launchese, we're passionate about helping non-residents set up their business in the UK. Whether you're selling digital products, running a SaaS company or selling physical products with your Shopify store, we have a solution for you.
We do know that there's lots of options however, so we have prepared this article to compare some of the other company formation agents with our service to show you why Launchese is truly the market leader.
Let's take a closer look at what Launchese offers and you'll see that we truly put our customer's needs first.
Comparing Company Formation Agents in the UK
It might be tempting to simply choose a cheap service to register a limited company in the UK, but some of the formation packages offered by agents are only suitable if you wish to keep your company dormant. The cheap formation packages are also not suitable for non-residents.
It's important to compare formation agents when you decide to register your limited company in the UK so we've put together this handy chart so you can be sure you're getting the most value for your money.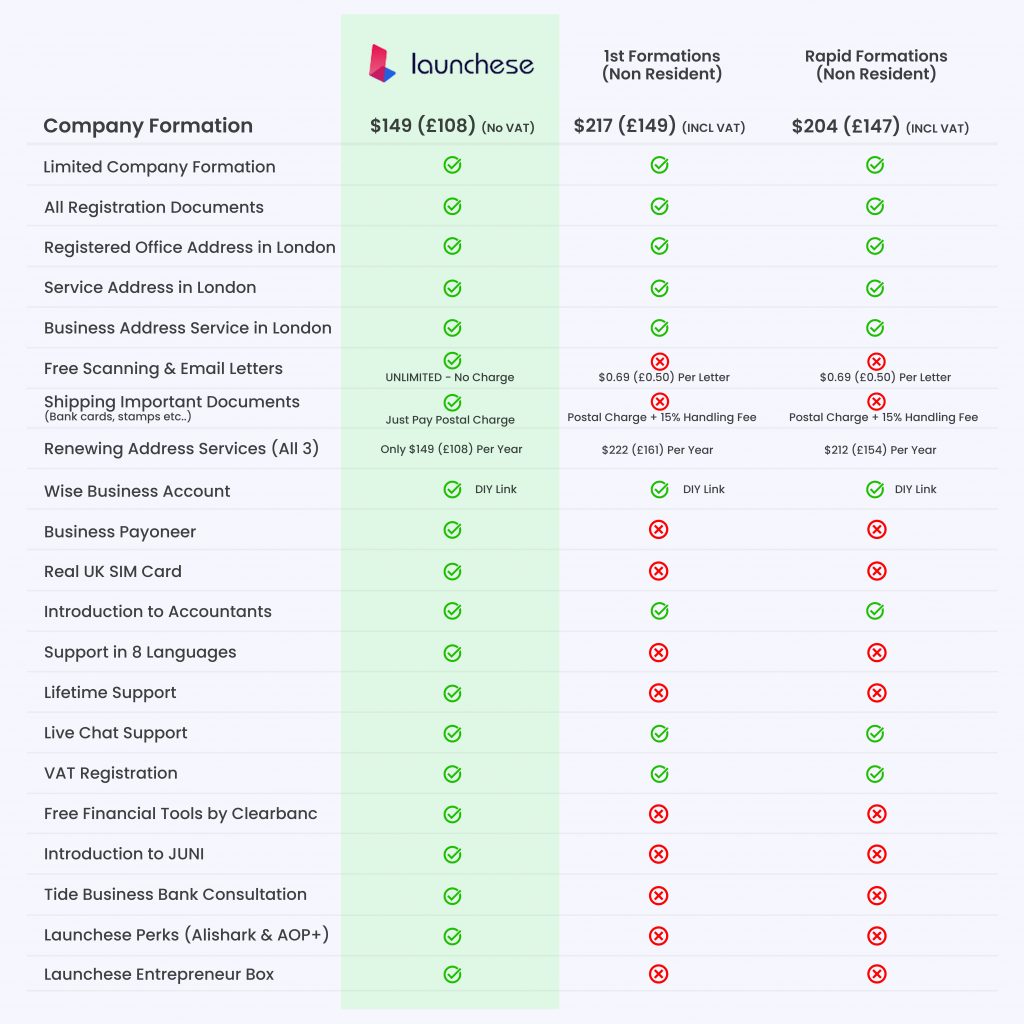 At first glance, you can see that Launchese only charges $149 USD (£108) to for limited company formation and we also include more services than other company formation agents.
It's the extra services that add to customer satisfaction and ultimately save them money when they are setting up an online business in the UK.
Launchese UK Company Formation Services
When looking for a company formation agent for your UK business, there are a minimum set of services that you should be looking for if you are a non-resident.
At bare minimum, your agent should be offering you the following company formation services:
Limited Company Formation
Registration Documents
Registered Office Address
Service & Business Address
VAT Registration
Live Chat Support
Wise Business Account
Most good formation agents will include the above services however it is the additional services that really sets Launchese apart from its competitors.
Additional Services Offered by Launchese
Launchese are proud to not only offer the most competitive price compared to other UK company formation agents, but we also offer the most services to our customers.
Here's some of the great features we include that others will charge and additional fees for.
Scanning & Emailing Letters
Most competitors will charge you 69 cents (£0.50) for ever letter that requires scanning and emailing. That can certainly add up! At Launchese, we provide this service free of charge to all of our company formation customers.
Shipping Important Documents 
When it comes to sending important documents in the mail, customers do have to pay for the postage costs but at Launchese we will never charge you an additional handling fee. You simply cover the postage costs. Handling fees charged by other agents can be 15% or more.
Business Payoneer Account
As an added service to all company formation customers, Launchese assists in setting up a 
Payoneer
 Business account. Don't pay extra for this service with other formation agents! 
Real UK SIM Card
In order to correctly verify your banking and payment services you need to have a UK phone number. Other formation agents might offer you a virtual number however these are not always accepted. That's why Launchese offers you more and provides a real UK SIM card to ensure smooth verification of your services.
Support in 8 Languages
Launchese is proud to offer support in English, French, Spanish, Italian, Turkish, Tagalog, Arabic and Vietnamese. 
Lifetime Support
Even after the initial UK company formation service is complete, we provide continual support to our customers. We're in this for the long haul and we will always provide our customers with the support they need.
Extra Launchese Bonuses
In addition to all of the above mentioned items that Launchese includes for free, customers can also enjoy the following bonuses:
Financial Tools by Clearbanc

Introduction to JUNI

Tide Business Bank Consultation

Alishark & AOP+ Ecommerce Solutions

Launchese Entrepreneurs Box (Delivered via mail)

UK Company Formation Frequently Asked Questions
Do I Need To Live In the UK To Register a Limited Company?
No you don't need to live in the UK at all. Launchese can help you register your company from anywhere in the world. All you need is a registered office address in the UK which Launchese includes for you in our service.
Will I Be Able To Open a UK Bank Account?
As a non-resident it can be difficult to open a traditional UK bank account which is why Launchese has partnered with Wise (formerly TransferWise). With Wise you can transact in many different foreign currencies without any fees. Launchese also has the added service of a Payoneer Business account setup at no extra cost for our non-resident customers.
What Support Does Launchese Provide?
We are proud to offer you live chat support and lifetime support in 8 different languages. Our customers' satisfaction is our priority.
Who Files My Annual Accounts?
Launchese provides the best company formation service in the UK, but this does not include accountancy services. We do however introduce you to a Chartered Accountant as part of our service and you are eligible for a complimentary first consultation to see if their services are the right fit for you. If you choose to engage them to file your annual accounts then you will agree on the fees with them directly.
How Can I Get Started Setting Up My UK Limited Company?
Summary: Best Company Formation Agent UK
Whether you're just starting to research UK company formation agents or you're ready to engage an agent and launch your online business, it's important to make sure you know exactly what you are getting for you money.
Not all company formation agents are created equal and it's the added extras that can make all the difference.
If you have any questions for the team at Launchese then feel free to contact us anytime. 
If you're ready to get started then you can simply choose your package and we will get to work right away!